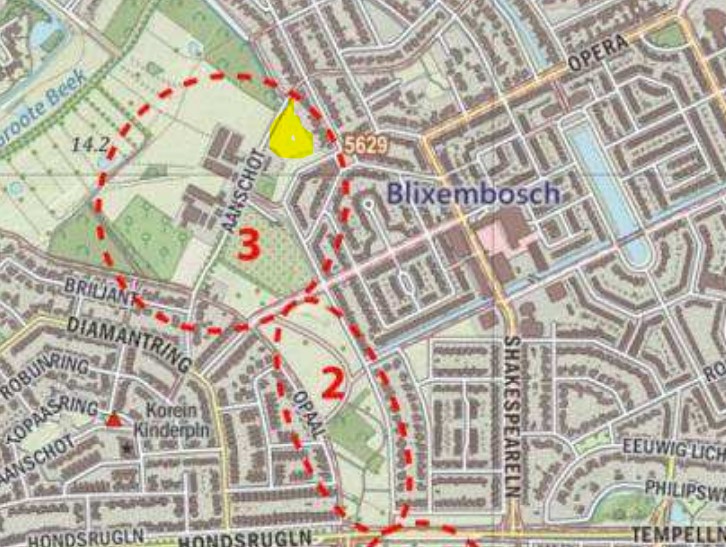 Gemeente Eindhoven bekendmaking nieuwbouw.
Surprising plan for homes between Aanschot and Rabelaislaan.
On July 22 it became known through the media that the municipality plans to 'temporarily' – up to a maximum of 30 year – houses to be placed between Aanschot and Rabelaislaan.
At this location, which is part of the nature reserve de Aanschotse Beemden, there are no homes at home and there are more good reasons for this. According to different (policy) rules and plans by the municipality itself, this building is not allowed. This is also in 2020 and in 2021 indicated by municipal officials, when answering specific questions at information meetings for a longer existing plan in the neighbourhood. The new plan for the location Aanschot – Rabelaislaan therefore came as an unpleasant surprise. An objection was therefore already submitted on 27 July on behalf of several people in the neighbourhood. We then had to wait a long time for a first open and serious conversation with the municipality where facts would be presented. On September 16, the time had come. During that first conversation It became clear that the specifics of this location still need to be investigated.
During the meeting, the municipality also indicated that there is not yet a concrete plan for this location, but that the municipality for the construction and the follow-up process with housing corporation Wooninc. goes into the sea. We believe that building in a unique ecosystem is not possible. The Aanschotse Beemden is a nature reserve with special flora and fauna. We want to keep it that way.
Under the name 'collective location movable homes Aanschot – Rabelaislaan' is being tried counterbalance this plan.
We will work with the municipality and Wooninc. continue the conversation.
In the next Lightning Flashes! there will be more to read about this, if sticking to it plan.
On behalf of the collective,
Peter Perton.