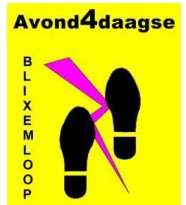 We will continue walking, so malaise is gone because it is almost time for the... Avond4daagse Blixemloop! Well, almost..... From Monday, May 30th until Friday, June 3rd, 2022, you can enjoy this lovely and sportive challenge with the whole family. And the next edition is all about connections. This has become even more important due to the corona pandemic. We find it essential to connect the youth with the elderly. So, ask your grandparents to join or neighbors who have the same age. Walking together is the most fun!

You can choose between 3 distances:
3 km (zonder tussenstop) / 5 km / 7,5 km (deze afstand starten we bij voldoende interesse)
- The 3 km route will start between 18:00 and 18:15
- the 5 and 7,5 km will start between 18:30 and 19:00.
The start is from the VTA at the Ouverture. The idea is to walk 4 from the 5 evenings
but of course you can do all 5.
Sounds good? Want to take part then here is how you sign-up.
The costs to participate:
It costs €3.00 for members of the wijkvereniging and € 4.50 for all non-members
p.p.
Here is how you sign up:
Scan enclosed QR-Code and fill in your information. Mail these to Blixemloop@ziggo.nl
Contrary to other years, it is only possible to sign up beforehand and not
and NOT on the start day at VTA itself.
The registration fee can be transfered directly to Wijkvereniging Blixembosch, IBAN
Bank number: NL12INGB0002797090 on the name of:
Blixemloop 2022, first and last name and address per participant. Als supervisors/parents
are asked to pay to whole fee.
We hope to organize a lovely activity for our neighborhood, so sign up quickly.
There will be at least 150 participants needed to continue the Blixemloop