Welcome to youth perspective.
Hello everyone,
From April 2021 there are two new youth workers in Blixembosch! We are Rik Nijssen (39) and Yasmine Essaidi (27) and we work for Dynamo Jeugdwerk.
This organisation can be found throughout Eindhoven, and now also in Blixembosch. From now on we can be found in Youth Centre Blixems.
You will also see us outside on the streets. We both have expertise in certain target groups and we include them in our programming. Inside Dynamo jeugdwerk We have various platforms. Think of gaming (Level Up 040), technology (Tech Playgrouds), lonely young people (Join Us), various sports activities and culture.
We are looking forward to getting to know the neighbourhood and especially the youth.
See you soon!
Rik Nijssen 06 46 76 81 91
Instagram @djw_rik e-mail : r.nijssen@dynamojeugdwerk.nl
Yasmine Essaidi 06 20 51 30 58
Instagram @djw_yasmine e-mail: y.essaidi@dynamojeugdwerk.nl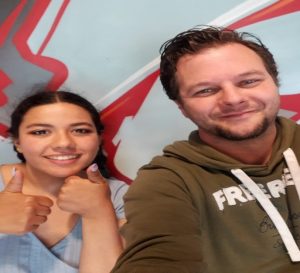 ==================================================================================================